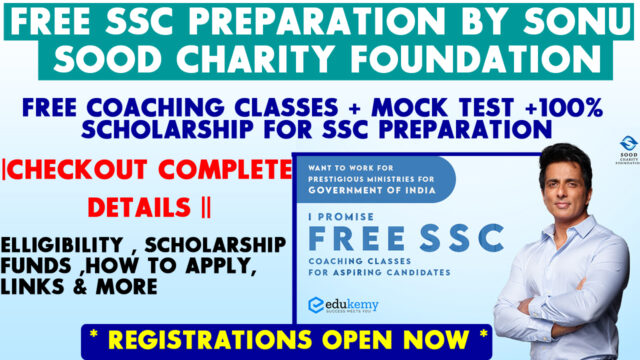 Free SSC Preparation Campaign by Sonu Sood Charity Foundation & EDUKEMY | Get Complete Details and Apply
Hi aspirants, here is an amazing opportunity for you by SONU SOOD CHARITY FOUNDATION. If any of you are looking for SSC Preparation then Sonu Sood Charity Foundation has brought you up a campaign where they are collaborating with EDUKEMY to provide students free SSC Preparation. It is available in multiple domains for students of all backgrounds. We hope most of you are equally excited as much as we are to get started.
About this campaign :
Sood Charity Foundation & Edukemy are ready to prepare you for the SSC Exams.
SSC Exams are well-known for their tough competition and acumen for reasoning.
Recognizing the need to provide quality education to EWS candidates with the potential to become officers, Sood Charity Foundation is proud to partner with Edukemy and its best faculties, to provide a 100% scholarship for SSC preparation.
The course provides students with comprehensive study material, live classes, MCQ tests, and daily coverage of current events in order for them to develop the right aptitude to crack the exam.
Terms and Conditions :
Preference will given to students from EWS. 
To be eligible, students should have either cleared 10th Standard,12th standard/graduation from a recognized, regulated board/university. 
Free Coaching for SSC course will be given to selected / shortlisted students online. 
Submitting your entry does not guarantee your selection for FREE Foundation course for SSC Exams.
SCF & Edukemy will shortlist the candidates as per their own discretion and selection process. 
Selected candidates give SCF & Edukemy absolute and complete right to use/publish their name, photograph, results, progress report on any media form – digital or offline. 
Selected candidates to provide all mandatory documents if and when asked by SCF or Edukemy.
Any false information, will lead to immediate cancellation of selection. 
SCF, Edukemy hold and reserve the right to cancel the selection of any candidate found of misusing the opportunity in any form, found to be non-serious towards the program, not following the guidelines, rules, regulations which may be changed from time to time by SCF or Edukemy or both.
No claim in any form whatsoever shall be claimed by any selected candidate or their family member/relative on SCF, Edukemy their Board Members, Committee Members during, before or after the commencement of the program. 
All decisions by SCF & Edukemy in the entire program will be final and binding. 
No correspondence is guaranteed to any candidate filling up the form. 
Selection of a student does not entitle any right to them whatsoever in any kind. The program offers Online Coaching to eligible students only. No requests for anything apart from this shall be entertained in absolute or in kind. 
By proceeding to submit your details, you are agreeing to all the above and below terms and conditions.
Any dispute/of any kind shall be subject to jurisdiction of Mumbai Courts.
IMPORTANT LINKS :
GET COMPLETE DETAILS ABOOUT THIS CAMPAIGN : CLICK HERE
APPLY FOR THIS CAMPAIGN : CLICK HERE
FOLLOW MY SOCIAL MEDIA CHANNELS, TELEGRAM CHANNEL, AND WHATSAPP GROUP FOR THE LATEST UPDATES ON FREE COURSES, CERTIFICATIONS, SCHOLARSHIPS, INTERNSHIPS, AND JOBS