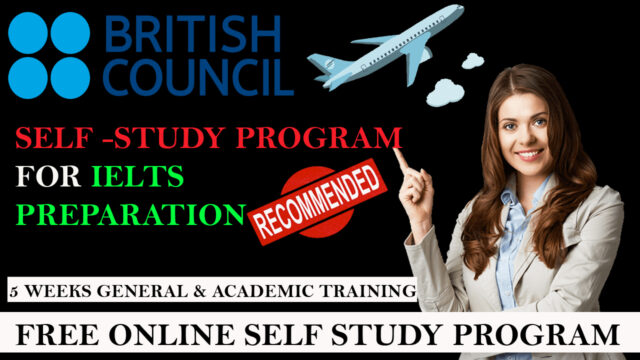 Are you the one waiting to get ready for IELTS tests, but the timetable got messed up by the pandemic? So don't worry, because in this pandemic, the British Council IELTS Preparation Program is here! So today I will be discussing a great opportunity to get online training and learn how to make good marks in the exam.
A candidate will get to learn from video tutorials including various sections such as Reading, Writing, and Listening. A candidate would practise all sections after attending and understanding the course content.
This self-study programme will take 5 weeks to complete. One of the five sections will be completed each week, and it would take 2 to 3 hours in a day to complete. It is a self-running course, suitable for both IELTS General and Academic training.
Details of Self Study Program for IELTS Preparation :
Test Modules
Writing part 1
Writing part 2
Reading
Speaking
Listening
Program Offered by :
Mode of Exam :
Who can enroll for this course ?
Anyone who is interested to take the general or academic preparatory course
Benefits of enrolling for Self -Study Program for IELTS Preparation :
No cost Required. This program is absolutely free for IELTS preparation
Easy to access.
Best study material is available
Practice question is available and would take around 2-3 hours to complete
IELTS computer-based free trial is included for Listening, Reading and Writing
The British Council has planned the Academic and General Training examination which they have for some reason.
Free results will be given for the Listening & Reading sections.
How to Join :
Visit the official website of british council and start preparing . No Registration is required.