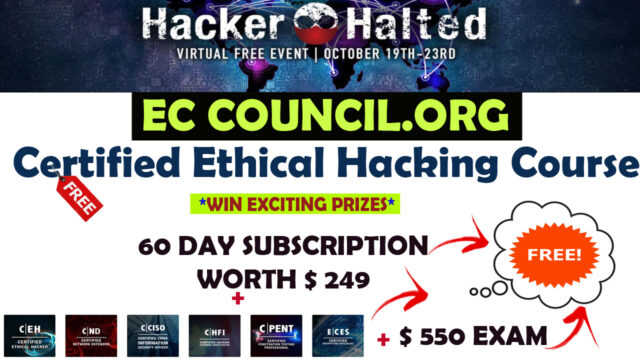 Hacker Halted Academy is the EC-Council's largest online learning event of the year! You can learn from EC-Council Master Instructors and take advantage of the amazing bundles available only to Hacker Halted Academy students! Earn your CEH, CHFI, CCISO, CND, or take our Drone Hacking class along with hundreds of your peers!
 You must attend our Free Hacker Halted virtual conference in order to be eligible for these rewards:
* 3 Months Free Access to Pro License of Aware
* Free 60-Day Subscription to CodeRed
* Free CEH Practical Exam Voucher!
* Free Online Training CHFI, CND, CIH, CSA, CTIA, or EDRP or CEH Practical Voucher
Now, you can spread the word to your network of cybersecurity professionals! EC-Council has made Hacker Halted free this year to help our community during this difficult and unprecedented time, but you need to to get the word out and get rewards you can earn by referring your friends.
HOW IT WORKS:
* Share with Friends
Share the link below with your friends through social media or through email.
* Win Points for Every Signup
For every friend who signs up, you will gain 10 points that you can redeem for exclusive prizes.
* Win Exclusive Prizes
For every friend who signs up, you AND your friend will win rewards!