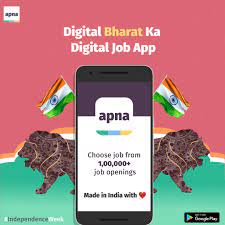 About the Organization :
Founded in 2019, apna.co is India's #1 professional app for the rising workforce. Our mission is to connect people with opportunities. Over 2 crore users and over 2 lakh employers trust the Apna platform – India has a new destination to discover relevant opportunities.
Services by APNA :
Recommendations from Isha, your Job Search Assistant
Get hired faster with AI-powered matching
Quick and guaranteed HR feedback
Option to withdraw or report a job application
Types of Jobs available :
Apart from full time jobs, Apna platform helps job seekers to find the jobs specific to their requirements. The platform has dedicated set of jobs for those looking for work from home jobs, freshers' jobs, part-time jobs, women jobs, night shift jobs.
Benefits
Salary upt 1 lakh + Incentive
No hassle to travel. Find Jobs at your door
How to Apply for a job in Apna?
It is simple to find jobs on Apna app. Follow these steps to get a job using Apna app
1. Download Apna app from Google Play Store.
2. Log in using your phone number and complete your profile.
3. Select the job categories that match your skills.
4. Find the job of your choice and apply.
5. Call HR to schedule an interview.
CLICK HERE TO GET DETAILS AND APPLY : HERE