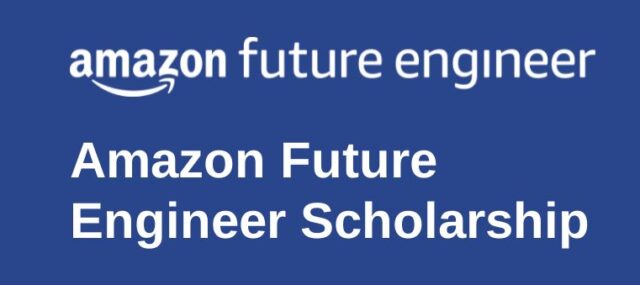 Amazon Future Engineer Scholarship Program has been announced for the year 2022 for which applications have been invited from students
This is a double-sized opportunity for future engineers. 100 students like you will win $40,000 for college and a guaranteed paid internship at Amazon.
About this opportunity :
"Amazon Future Engineer is a comprehensive childhood-to-career program aimed at increasing access to computer science education for children and young adults from underserved and underrepresented communities," says the company. A total of 100 students will be selected for the Amazon Future Engineer Scholarship Program. Apart from the $40,000 scholarship, a paid summer internship opportunity will be offered to students as a programmer at Amazon. This scholarship's award can be used for tuition, fees, books, and supplies only.
Last Date to Apply :
Those who wish to apply will have to submit applications before 25 January 2022.
Who can Apply for Amazon Future Engineer Scholarship Program:

The scholarship is aimed at students who meet the following eligibility criteria:
The scholarship program is open to students planning to earn a bachelor's degree in a computer science related field of study from an accredited 4-year college or from a 2-year college intending to transfer to a 4-year college.
Students must have taken computer science classes in high school or at a college dual program, or currently be enrolled in one.
Applicants must have at least a 3.0 cumulative GPA out of a 4.0 scale, or equivalent.
United States citizens, United States permanent residents holding Permanent Resident Card, or those with Employment Authorization to work in the United States for at least 2 years can apply.
How to Apply?
Step 1:Visit the Hub, Scholarship America's application system.
Step 2:Create or log in to your account and complete your profile.
Step 3:Search for this program under the scholarships tab to begin your application.
APPLY FOR THIS SCHOLARSHIPS: CLICK HERE
Follow All the Social Media Channels for latest updates on Courses, Certifications , Jobs , Internships and Jobs