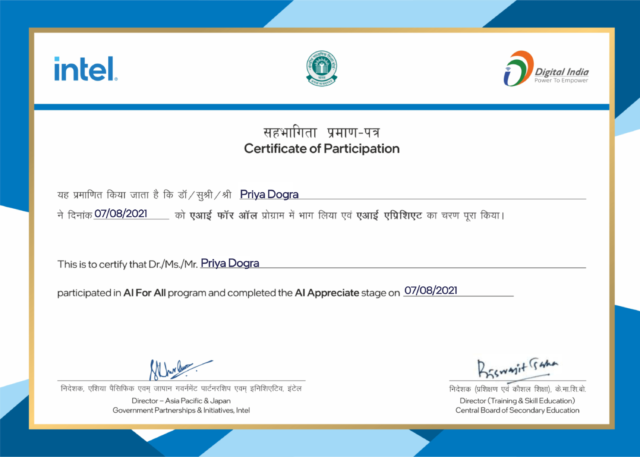 AI FOR ALL Initiative | Education Ministry Launch Free Artificial Intelligence Course with Certificate in Collaboration with Digital India & Intel
About this Program :
AI For All' is a self-learning online program designed to raise public awareness about Artificial Intelligence. It aims to demystify AI for people from all walks of life – a student, a stay at home parent, a professional in any field, a senior citizen – basically, anyone interested in getting acquainted with it and wanting to build a 'Digital First Mindset'
The program is divided into two sections: AI Aware, and AI Appreciate.
Both sections can be completed in about four hours. Each section is based on AI related concepts explained through engaging activities and quizzes. Passing this quiz grants the User a badge that they can share on their social media accounts. The users can take this quiz as many times as they want. After they complete these quizzes, they become bearers of AI Aware and AI Appreciate badges.
Prerequisites :
Any smart device such as Smartphone, Laptop or Desktop and good internet connectivity with a minimum bandwidth of 512kBps are the prerequisite for this program
About Section 1:
Defines what is Artificial Intelligence
Talks about Human Intelligence
Helps to differentiate AI and non-AI machines, and Unravel popular misconceptions around the technology.
About Section 2:
Describes the different domains of AI, their impact on various industries
Elaborates about the principles of responsible AI and AI ethics
After Completing The course you will get a course Completion Certificate and 2 digital Badges.
APPLY FOR #AIINTIATIVEFORALL: CLICK HERE