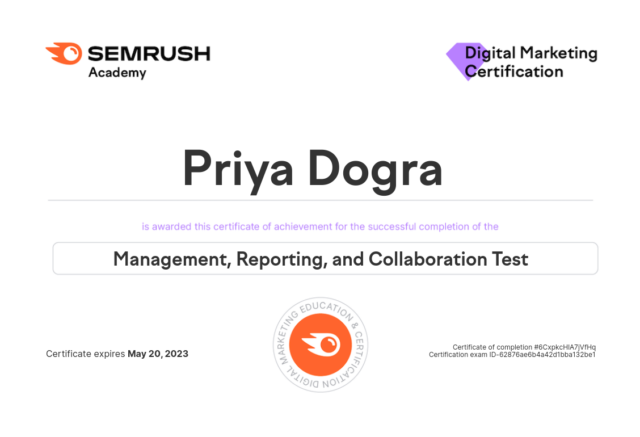 Semrush Management, Reporting, and Collaboration Exam Answers
Question 1 There are many widgets on the SEO dashboard, with many data sources. From which of the various sources can information be found in widgets?
SEMrush Organic Research
Google Ads
Google Analytics
SEMrush Advertising Research
SEMrush Traffic Analytics
Question 2 Guru and business subscribers can add their logo into the reports. True or false?
Question 3 Fill in the blank. By connecting My Reports with Google ___, among other widgets, you can get New vs Returning Visitors, Top Traffic Channels and Top Page Views.
Analytics
My Business
Shopping
Search Console
Question 4 It is possible to link your campaigns in the Marketing Calendar to your real campaigns in Google Analytics by using UTM tags. True or false?
Question 5 What subscription allows you to produce a White Label Report where all mentions of SEMrush are avoided, even in the email address from which the report is sent?
Question 6 Connecting GA with SEO dashboard we get traffic data based on:
Only organic traffic data
All the traffic data (referral, direct, organic, all devices and locations)
Only direct and organic traffic data
Question 7 Fill in the blanks ___subscribers can only have ___marketing calendar(s); ___subscribers can create unlimited calendars and also share the calendar in___ mode. This means that anyone can view the calendar through access to an external link, with or without an SEMrush account.
Guru, 1, Business, read-only
Guru, 2, Business, read-only
Pro, 2, Guru, edit
Guru, 1, Business, edit