In the latest Weekend ka Vaar Episode we have seen Salman Khan exposed the truth behind Arhaan & Rashmi Controversy. Priorly we have seen Salman Khan lashing out at Contestants about their aggressive behavior towards task after that Salman Khan Shifted his focus towards Arhaan Khan and slams him for telling housemates about outside world then he said "Tujhe Shok Hai Na Bahar Ki Baat Krne Ka Chal Teri Baat Krte Hai" then Salman Khan exposed Arhaan Khan's truth about his marriage and his child .After Listening to truth Rashmi Desai was all Heartbroken and wanted to leave the show . Seeing her Crying Salman Decided to enter the Big Boss House. He Told Arhaan that he has done the silliest mistake ever to lie to a person with whom he plans to spend his whole life with.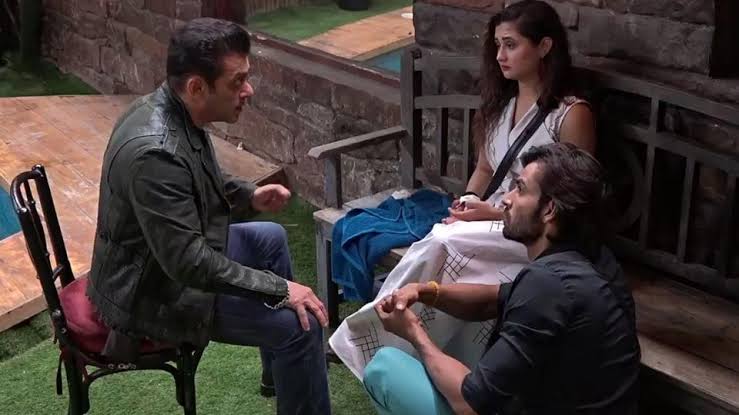 Truly Salman Khan is the realest being human and knows how to call a spade a spade because he makes sure how to appreciate the good deeds and punish the one who does wrong.
But on the other side we have also seen Arhaan Khan taking ill about Rashmi Desai with Shefali Bagga. We have heard him Saying that When he met her( Rashmi Desai ) she was left with no money in her account. She was on the road. His Statement was "Jab Rashami se mila tha, iske account mein na zero balance tha. Wahaan se leke yahaan tak main Rashami ko kaise leke aya hoon, mera dil janta hai. Khatam ho chuki thi, Rashami Desai road par thi."
From Sources it has been coming that before coming to the Big Boss House Rashmi Desai Handed her Apartment and Financial Statements to Arhaan Khan. Arhaan Khan has been reportedly using Rashmi Desai's Money and is living in her apartment since she left for the Big Boss House.