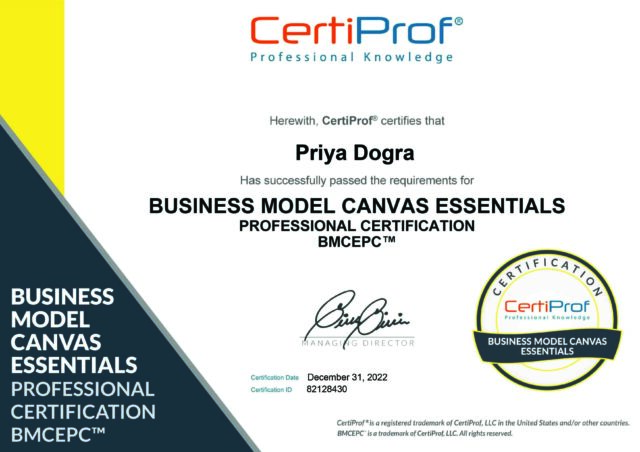 Business Model Canvas Essentials Professional Certification | Free Certiprof Certifications
About Certification :
Business Canvas Essentials is an informative and practical document for all those dreamers, visionaries and entrepreneurs who want to create and implement new business adventures away from the traditional business models, exploring new proposals to understand and represent the different business units in an easy and practical way.
Learning Objetives:
Understanding the concept of Business Model.
Review and become familiar with the Business Model Canvas concept and its 9 blocks.
Review and become familiar with the concept of Lean Canvas as a business visualization tool and its contribution for new entrepreneurs.
Review and understand the different business model patterns.
Describe techniques and tools from the design world that can help create more innovative Business Models.
Understanding in a general way, 4 strategic areas of study and reinterpretation of Business Models.
This Course is suitable for
Business ownership
Business Planning
Entrepreneurs
Consultants
Coaches
Management position or higher in a corporation
Business Leaders
Executives
Exam Details :
Questions: 40
Passing Score: 32/40 or 80 %
Language: English / Spanish
Duration: 60 minutes
Certification :
Yes Certificate will be provided after successful completion of exam.
CHECKOUT THE DETAILS : CLICK HERE
Important Links :
►►►Work from home Internship with Rs 15,000 Stipend( no skills required ) : https://bit.ly/3WBggZt
►►►Itronix Solutions Free Courses: https://bit.ly/39Qvpz2
►►►Machine Learning Free Courses: https://bit.ly/3lYX0nf
Join my communities for best and amazing content :
►►► Join 𝗧𝗲𝗹𝗲𝗴𝗿𝗮𝗺 – https://t.me/PriyaDogra
►►►Join me on Whatsapp Group : https://bit.ly/3vs9bhI
►►► Connect with me on Instagram – https://www.instagram.com/iampriyadogra
►►► Facebook – https://www.facebook.com/officialpriyadogra
►►► Our Official Website For Free Courses & Certification Answers– https://priyadogra.com/
►►► For Business Enquiry – dograpriya21@gmail.com